A little while after Christmas I was catching up on Youtube videos that I had missed while out of town. I came back to multiple videos and reviews of Sigma Makeup. They were raving about a 12 piece brush set. They compared them to MAC, saying that they were the same quality for a quarter of the price. After reading multiple reviews I decided to order them. I needed new brushes and had been looking around for a good set that I wouldn't have to sell a kidney on the black market to pay for. I ordered them mid January and received them the beginning of February. Upon opening the package I was delighted with the brushes. They were ultra soft and the handles were great quality. They were also numbered the same as Mac brushes and I got a free travel size SS217.
The set included: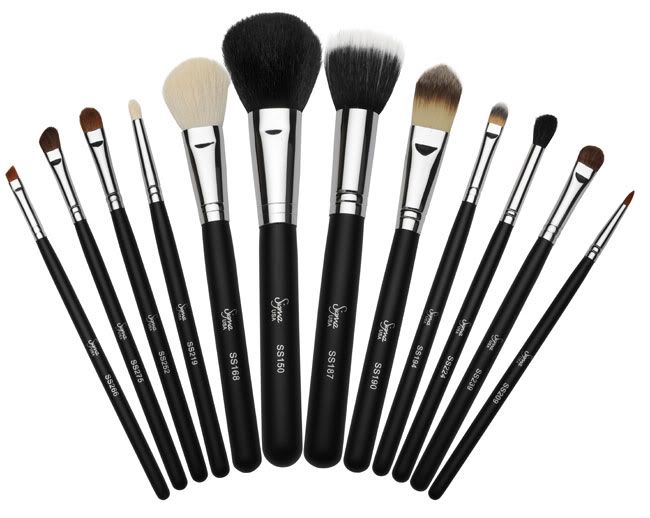 Powder brush (SS150)
Foundation brush (SS190)
Duo fibre brush (SS187)
Large angle contour brush (SS168)
Concealer brush (SS194)
Medium angle brush (SS275)
Small angle brush (SS266)
Large shader brush (SS252)
Pencil brush (SS219)
Tapered blending brush (SS224)
Eyeliner brush (SS209)
Eye shading brush (SS239)
I was especially excited to use the duo fibre brush since I hate using flat foundation brushes. While cleaning the brushes the first thing I noticed was the amount of dye that came from the powder brush and duo fibre. It turned the white tips black and brush cleanser didn't work. I let them dry and used them the next morning. The duo fibre brush shed like mad, and still does. I do like the buffed airbrush look it gives you, I do not like having to use a kabuki brush to get rid of the hairs the brush have left afterward. I have nothing else bad to say about the set. The powder brush is wonderful, I especially like the small angled brush for cream liner (I use the brush on cream liner from Clinque). The larger shader brush is perfect for packing colour on the lid. The large angle contour brush works pretty well (with a little shedding). Over all, I was impressed with the set (minus the dual fibre brush). For $69 US for the brushes and $14 for shipping I think they were well worth the price. I also bought their complete Beauty on the Go makeup kit. I will be reviewing it later when I've used more of the products.
Sigma Makeup
*Brushes now have new numbering