If you're ridiculously pale (NC15 in MAC Studio Sculpt) like me, you have a hard time finding bronzers. Everything makes me look like an orange Cheeto, or like I rolled around in dirt (or both). I've spent years and mega dollars trying to find the perfect glow. Here are four bronzers I've used (or tried to) that range from $12 - $35 American.
1.
Physicians Formula Multi coloured face Powder ($12.95)
"Provides soft, natural color without a harsh monotone cast." This one actually wasn't too bad. If I buffed
really
well, I could get away with it. It's one of the lightest colours and would work perfect for someone who is a shade or two darker than I. For the price, I definitely recommend it.
Hypoallergenic
Fragrance-free
Oil-free
Non-comedogenic
Dermatologist approved
2.
Estee Lauder Bronze Goddess Soft Matte Bronzer ($30)
"Silky and luxurious natural, shine free colour" This was actually my go-to colour for contouring for about a year. I still need to buff this one a lot for it to look natural in the slightest. Even though it's matte, it still has too much of a sheen for me to be able to use as a contour. I don't know what I was thinking for that year. I do recommend it for anyone who's probably an NC25 to use for a healthy glow.
Oil-free
Dermatologist-tested
Ophthalmologist-tested
Non-acnegenic
Won't clog pores
3.
Elizabeth Arden Color Intrigue Bronzing Powder Duo ($32)
"Rich, true color sweeps on for a natural, bronze glow. Duo features two blendable shades for an ideal bronzing effect." The lightest colour in this duo is similar to the Estee Lauder colour. The darker shade, however, makes me look like I rolled around in red dirt. No matter how much I blended, buffed and prayed I could not do anything with this bronzer. I did find that it stayed for a long time though, one application and you could still see it after all day. It also comes with a kabuki brush that actually makes this product not be a complete waste of money for me.
Oil-free
Fragrance-free
Dermatologist tested
Clinically tested
4.
Too Faced The Bronzed and the Beautiful Palatte ($35)
This has to be, by far, my favourite bronzer. It comes with three "mini" shades. "Snow Bunny," "Sun Bunny," and "Pink Leopard." Sun Bunny's lighter shade is about the same as the Estee Lauder colour. Where as the darker shade is a a couple shades lighter than the Elizabeth Arden colour. The Snow bunny bronzer comes with four shades, an ivory, lighter bronze and two different shades of pink. This one works well for me since I can avoid using so much of the bronze colour. The Pink Leopard colour is, by far, my favourite. It's actually a leopard mixture of pink and brown. This colour gives me the perfect healthy glow without having to over buff or put effort into it at all. It comes with a flatbuki brush that is perfect for application.
1. Physicians Formula 2. Estee Lauder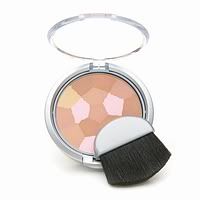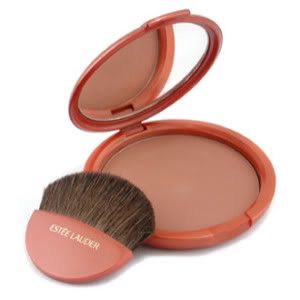 3. Elizabeth Arden 4. Too Faced